7 Ways to Avoid Cabin Fever (aka summer allergies!)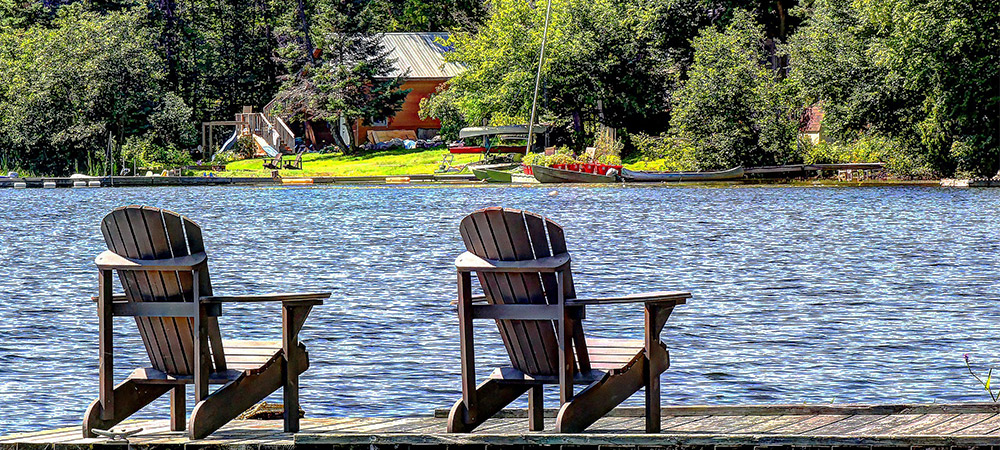 There are two kinds of cabin fever. You're familiar with the first one, the anxiousness as you wait to get to the cabin – the pontoon, swimming, campfires, outdoors, relaxation and sunshine – after a long winter. The second form kicks in once you get to the cabin: The allergy symptoms that come from every which way. Dr. Giana Nicoara, allergist at Allergy Associates of La Crosse, explains the allergies commonly associated with summer and how to best avoid their effects.
1. The great outdoors
Summer is the prime time for environmental allergies. Dr. Nicoara explains that from May to September, pollen is unending. "As spring ends in May, we still have tree pollen flying around. Then the grass follows. Depending on how wet and warm the summer is, we can get ragweed starting mid-July until the first frost. That pretty much covers the summer," she says.
Being outside, the thing we long for most, is actually the biggest cause of allergy symptoms. An option to avoid these symptoms is to treat the cause of your environmental allergies with allergy drop treatment following the La Crosse Method™ Protocol, the Protocol Allergychoices advocates. Taking antihistamines and anti-inflammatory medications specific for allergies (when antihistamines don't work well enough) can help calm symptoms, too.
Dr. Nicoara also lends some advice for avoiding reactions, "The worst pollen counts are found between 9 a.m. and 3 p.m. If you are going to spend a lot of time outside between those hours, shower before you go to bed. Wash all of that pollen off of your skin and hair."

2. Green grass 
Something as simple as sitting on the grass can cause a skin rash. The best way to avoid reactions is to not come in contact with grass itself. "Don't sit on grass with your bare skin. Wear long pants or put a sheet on the ground if you're going to sit on it," Dr. Nicoara says. "If you do end up with a rash, you can use hydrocortisone cream. If it gets really bad, you should call your doctor and get something stronger for the rash."
Dr. Nicoara also says that after spending time in the grass, take a shower and wash off the grass pollen before it causes more issues. If skin is still red and itchy after a shower, applying hydrocortisone cream can help.
3. Fresh air
Here in the Midwest, we love keeping the windows open and air flowing through our homes. Some don't realize that this allows pollen to flow through our homes, too. "I know everybody loves to keep windows open in the summer. If you do, you're going to allow all of that pollen and mold to fly inside and then it's all over your house. Keep the air on, keep the windows closed," Dr. Nicoara recommends. Keeping your windows and doors closed will keep your home a safe "breathing space."
She says simply, "Keep the air on — keep the windows closed."
4. Taking a swim
For those with eczema, swimming in a pool with chlorine will often cause flare ups of skin reactions. Dr. Nicoara suggests that those who have issues with these skin reactions rinse and moisturize after swimming. Use a moisturizer without dyes and fragrances to best calm the skin.
5. The clothesline
The easiest way to dry towels and swimsuits is to throw them on a clothesline or over the back porch, but that also makes them "screens" for collecting pollens and molds. Then, these items are brought inside and those particles are in your breathing space yet again. Throw your clothes in the washer and dryer rather than outside to lessen environmental allergy reactions.

6. Furry friends
As your dog runs in and out of your home, it tracks allergies onto your bed, furniture, and living space. Dr. Nicoara states, "You may want to use wipes on the dogs before they lie on the couch and on the bed and bring all that pollen on their fur indoors." Giving your pet a bath or using allergy relief wipes before they go indoors can ensure the pollens they've inevitably trapped on their fur doesn't make you itch and sneeze.
7. The cabin itself
"Cabins typically have been closed off for the winter. They're going to have a large population of dust mites and potentially mold. People should clean it before they head to the cabin for an extended period of time," Dr. Nicoara explains. While we're all eager to get in the cabin and relax, take the time to clean first.
For people with more severe allergy symptoms, who do not get enough relief with anti-inflammatory medications and antihistamines, sublingual immunotherapy (SLIT) may be a better alternative for achieving relief. Allergy drops work to treat the cause of your allergy so that when you're exposed to it, symptoms are lessened significantly.
By Taylor Pasell, Allergychoices