Allergy Control Program for Onsite, Nearsite & DPC Clinics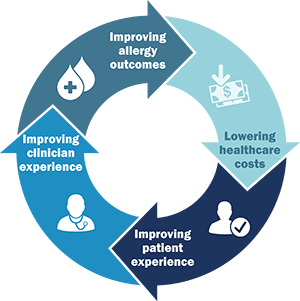 Chronic health issues including allergy and asthma are primary contributors to the boomerang patient — those that return again and again for treatment, consume medication and appointment time, yet don't seem to improve.
Managing these patients in an onsite environment with limited staffing and appointment allocation is a challenge. Not to mention the frustration clinicians feel when current treatments aren't making the impact they'd hoped.
Allergychoices' Allergy Control Program works seamlessly with onsite, nearsite and DPC clinics to quickly enable providers to diagnose and treat chronic allergy and related issues using the La Crosse Method™ Protocol for sublingual immunotherapy with validated outcomes.
Our program can help providers meet the Quadruple Aim
Improve outcomes:
Address hidden impact of allergy through a patient-tailored, disease modifying solution
Improve long-term health, comorbidities and quality of life for allergy patients
Lower healthcare costs:
Reduce unplanned office visits, procedures, and related medication needs
Modify disease and prevent long-term costs from unmanaged chronic issues
Improve patient experience:
Reduce side effects and safety issues associated with other forms of treatment
Improve access, convenience, and adherence with at-home administration
Improve clinician experience:
Efficiently integrate a proven, safe protocol into practice workflow
Enjoy more adherent, satisfied patients who didn't respond to other treatments
Let's start the conversation to uncover opportunities in your patient population and how easy and affordable it can be.