Allergy Control Program for Onsite & Near-site Clinics
Chronic health issues including allergy and asthma are primary contributors to the boomerang patient — those that return again and again for treatment, consume medication and appointment time, drive costs, yet don't seem to improve. Managing these patients in an onsite environment with limited staffing and appointment allocation is a challenge.
Allergychoices' Allergy Control Program works seamlessly with onsite and near-site clinics to enable providers to diagnose and treat chronic allergy and related issues. We help you implement diagnostics and sublingual immunotherapy following the La Crosse Method™ Protocol, with outcomes validated by the Validation Institute, to reduce absenteeism and presenteeism in the workplace.
The Allergy Control Program has benefits beyond disease modification:
Address hidden impact of allergy in your patient population
Improve long-term health, comorbidities and quality of life for allergy patients
Improve access, convenience, and adherence with at-home administration
Efficiently integrate a proven, safe protocol into practice workflow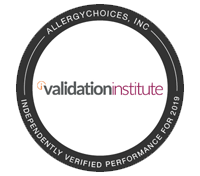 La Crosse Method Protocol outcomes have been validated through the Validation Institute, an independent team of population health scientists and bio-statisticians who provide objective review to validate performance in healthcare. For more information, visit validationinstitute.com.

Implementing the Allergy Control Program is straightforward:
STEP 1: IDENTIFY THE IMPACT OF ALLERGY
Consider your boomerang patients with recurring:
Rhinitis

Asthma

Sinusitis

Ear infections

Atopic dermatitis
They're patients who don't find other treatments helpful, and who want to treat the cause instead of managing a lifetime of chronic symptoms.
We can also help you identify the cost of allergy in your organization using your claims data. By first identifying the true costs of allergy to your organization, you'll have a benchmark to help identify critical areas to address, and to measure improvements throughout the treatment life cycle.
STEP 2: ENABLE DELIVERY PARTNERS TO DELIVER THE PROTOCOL
We ensure near-site and onsite clinics are equipped with the tools they need for successful care delivery to ensure consistency and better outcomes. Our Implementation Team helps you determine the best diagnostic partners for your unique practice or works with those you've already identified, then helps you implement the Protocol and how it will fit into your workflow.
Our licensed pharmacy and clinical support team provides the clinical tools and expertise to guide providers through each step to provide a custom experience for every patient.
STEP 3: IMPLEMENT BEST PRACTICES FOR SUCCESS
Once the care delivery team is established and trained, Allergychoices continues to support your efforts, helping implement its best practices program developed from hundreds of practice implementations around the U.S.
We provide ongoing education, tools and patient management support to maximize patient engagement and adherence. Online, HIPAA-compliant tools enable providers to monitor patient adherence and easily create, track and manage treatment orders. Pharmacy staff and medical advisors are available to provide guidance and support for a broad range of patient cases and complexity.
You May Also Be Interested In