With Allergychoices Pharmacy as an option for patients, you can quickly begin to treat patients without adding to overhead.
Quality Control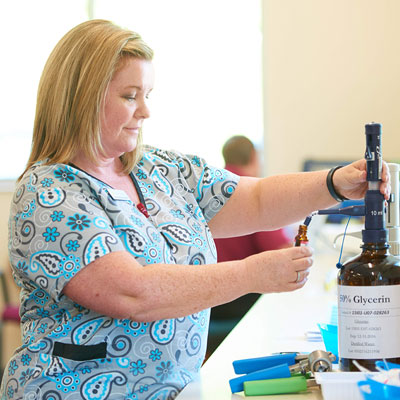 Each custom, named-patient prescription is prepared by our licensed and credentialed pharmacists and technicians according to provider prescriptions following the La Crosse Method™ Protocol dosing strategies. Our experienced staff adheres to rigid quality-control standards in accordance with your state's licensing requirements.
Each prescription is carefully mixed and logged by lot for patient safety, providing us complete recall capabilities and ensuring prescription integrity. FDA approved allergen extracts are provided by licensed manufacturers and delivered in a patient-friendly metered dispenser that ensures a precise dose. Prescriptions are shipped within two business days of receipt of prescription orders and payment. Other shipping options are available upon patient request.
NOTE: Allergychoices Pharmacy serves all 50 states.
Sublingual Immunotherapy Prescription Pricing
Inhalant allergen prescriptions begin at $149 for a 90-day supply (based on prescription complexity and antigens used).
Food prescriptions begin at $173 for a 90-day prescription.
Preseasonal allergen prescriptions for grass, ragweed, and trees are $152 for a two-vial set; contact our pharmacy for bundled pricing.
For more information, please contact us at (866) 793-1680, ext. 512.
Exclusive Services
In addition, the Allergychoices Pharmacy routinely provides:
One-on-one consultation with pharmacists to support simple to complex patient cases
Multilingual interpreter services to support patients and providers
Access to physicians who are world leaders in SLIT delivery for a broad range of complex patient issues
Patient prescription education and adherence tools for your patients and practice
Routine patient counseling in accordance with good pharmacy practices
Industry-leading expertise in La Crosse Method optimized dosing and prescription formulation
Quality control and detailed lot tracking
Online ordering/review/tracking through our secure pharmacy portal