Allergychoices' Allergy Control Program
Lower costs. Better outcomes. Tailored allergy solutions.
Allergy is one of the most overlooked chronic conditions impacting healthcare and employers today.
Though you may not realize how, you are impacted by allergy's spiraling costs, reduced productivity, and increased healthcare utilization.
The Allergy Control Program (ACP) helps you uncover costs and create a plan to reduce them. The ACP can provide value on investment and deliver on the Quadruple Aim for more affordable, evidence-based care with better outcomes.
Take a closer look at how we help you meet the Quadruple Aim.
Let us help you define the impact through data analysis and create a path to lower costs and better, validated outcomes.
Hear more about the growing prevalence and economic impact of allergy and related disease, and what we're doing to change it in this video →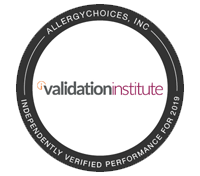 La Crosse Method Protocol outcomes have been validated through the Validation Institute, an independent team of population health scientists and bio-statisticians who provide objective review to validate performance in healthcare. For more information, visit validationinstitute.com.
You May Also Be Interested In