Allergy Control Program for Benefits Consultants
Navigating your clients to solutions that provide better health outcomes in a more cost effective manner is critical to building your organization's reputation as a key partner.
Allergychoices' Allergy Control Program (ACP) provides you with a unique offering that uncovers an often overlooked drain on cost, outcomes and productivity, with a low barrier to entry. We can help you define true costs of allergy and related comorbidities that are often missing in most reporting, and pave a path to more effective diagnostic and treatment delivery options that can result in a healthier workforce at lower costs.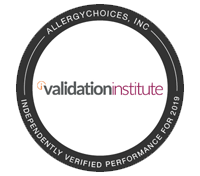 La Crosse Method Protocol outcomes have been validated through the Validation Institute, an independent team of population health scientists and bio-statisticians who provide objective review to validate performance in healthcare. For more information, visit validationinstitute.com.
Our program can help benefits consultants meet the Quadruple Aim
Improve Outcomes:
Differentiate and stay relevant with clients by introducing a precision solution with validated outcomes
Help clients improve productivity and absenteeism rates among chronic allergy, asthma and related disease sufferers
Lower Healthcare Costs:
Identify and address hidden costs of allergy and related diseases
Decrease office visits, procedures and medication costs with disease-modifying treatment
Improve Patient Experience:
Provide patients with access to an affordable, disease modifying treatment option
Improve patient adherence with convenient treatment without side effects impacting productivity
Improve Clinician Experience:
Efficiently integrate a proven, safe protocol within onsite, nearsite and DPC clinic workflows
Reduce "boomerang" patient utilization, allowing providers to treat more patients
Learn about our steps to implementation, and how we can work with you to analyze the issue, and develop a custom plan that fits your client needs.

You May Also Be Interested In