Allergy Control Program for Employers
Employers know the current trajectory of healthcare costs is unsustainable. Yet having a healthy, productive workforce is critical to success.
If your self-funded group is looking to find ways to bring down the cost of chronic allergy and related disease including allergic asthma, chronic sinusitis, and eczema, Allergychoices' Allergy Control Program may be a valuable piece of the puzzle.
Our program can help identify underlying allergies and modify the disease with sublingual immunotherapy, or allergy drops, to:
Reduce or prevent related comorbidities from developing
Reduce treatment costs from allergy and related disease – office visits, procedures and medication spend
Improve adherence, productivity and reduce absenteeism through convenient therapy
Efficiently integrate a treatment with validated outcomes seamlessly into workflow
See how this program is seamlessly integrated in three steps.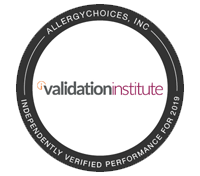 La Crosse Method Protocol outcomes have been validated through the Validation Institute, an independent team of population health scientists and bio-statisticians who provide objective review to validate performance in healthcare. For more information, visit validationinstitute.com.
STEP 1 — Analyze the Impact of Allergy in your Organization (Footprint)
Most organizations underestimate the allergic impact. We help them identify the true costs of the footprint allergy has in their organization, using their claims data, including:
Code review list for diagnostics and procedures that encompass the many facets of allergy and related comorbidities

Comprehensive medication list for analyzing spend on allergy-related medications

Allergy-specific screener tool to identify those most likely to benefit
Identifying an organization's true allergy costs provides a benchmark to help identify critical areas to address, and to measure improvements throughout treatment.
STEP 2 — Enable Delivery Partners to Deliver the Protocol
Once we've identified your organization's allergic footprint and opportunity for improvement, we help activate a streamlined diagnostics and treatment plan using the La Crosse Method™ Protocol.
Whether the organization employs an onsite or near site clinic model, or needs to identify DPC or local providers who direct diagnostics and treatment, we help equip them with the tools they need to successfully deliver care and create a seamless workflow to ensure consistency and better outcomes.
Our licensed pharmacy and industry-leading blood and skin testing support services provide the clinical tools and expertise, along with the La Crosse Method Protocol, to guide providers through each step to provide a custom experience for every patient.

STEP 3 — Implement Best Practices for Success
Once the care delivery team is established and trained, Allergychoices continues to support your efforts, helping implement its best practices program developed from hundreds of practice implementations around the U.S.
We provide ongoing education, tools and patient management support to maximize patient engagement and adherence. Online, HIPAA-compliant tools enable providers to monitor patient adherence and easily create, track and manage treatment orders. Pharmacy staff and medical advisors can provide guidance and support for a broad range of patient cases and complexity.
In addition, a Center of Excellence is available as a backstop for highly complex allergic cases needing referral to an allergy specialist.
What's next?
Let's start the conversation with a data review to help you determine your organization's allergic footprint, and how we can help direct a new path to savings.