Allergy Control Program for Employers
Employers know the current trajectory of healthcare costs is unsustainable. Yet having a healthy, productive workforce is critical to success.
As more employer groups explore self-funded insurance options, direct contracting with primary care, onsite, or nearsite clinics, there's a growing opportunity to regain control of costs while ensuring better outcomes.
If your self-funded group is looking to find ways to bring down the cost of chronic allergy and related disease including allergic asthma, while creating a healthier workforce, Allergychoices' Allergy Control Program may be a valuable piece of the puzzle.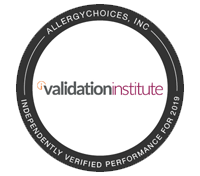 La Crosse Method Protocol outcomes have been validated through the Validation Institute, an independent team of population health scientists and bio-statisticians who provide objective review to validate performance in healthcare. For more information, visit validationinstitute.com.
Our program can help employers meet the Quadruple Aim
Improve Outcomes
Identify and address the impact of allergic disease to improve productivity and absenteeism
Address root cause and reduce need for long-term allergy treatment options
Reduce or prevent related comorbidities from developing
Lower Healthcare Costs
Reduce treatment costs from allergy and related disease – office visits, procedures and medication spend
Reduce long-term chronic costs with early disease-modifying option
Improve Patient Experience
Provide employees/dependents access to affordable, disease-modifying treatment
Improve adherence, productivity and reduce absenteeism through convenient therapy
Improve Clinician Experience
Reduce chronic allergy utilization to provide more access to other patient needs
Efficiently integrate a treatment with validated outcomes seamlessly into workflow
Let's start the conversation with a data review to help you determine your organization's allergic footprint, and how we can help direct a new path to savings.