Reduce Food Fears in Your Halloween Fun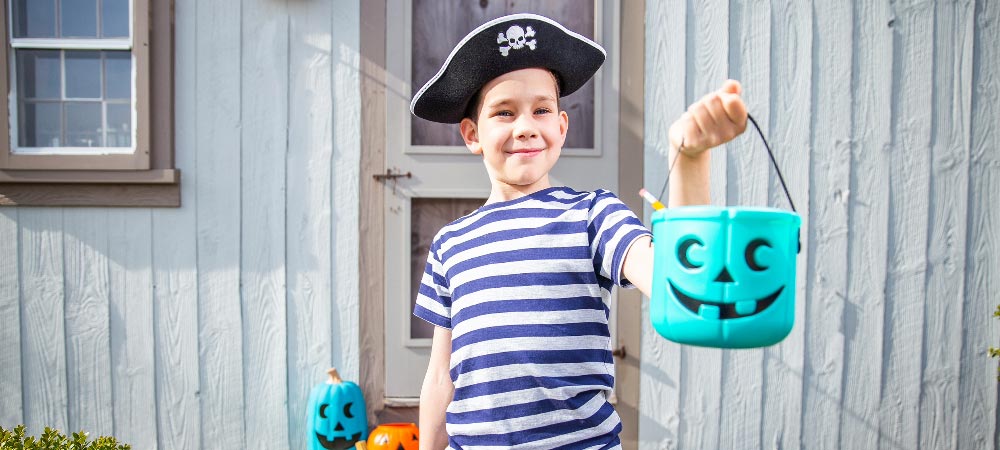 Halloween is coming, which can be scary when you have children with food allergies. We don't want to ruin the holiday and fun of getting Halloween candy, but it can be dangerous when kids swap candy or when your child isn't 100% sure if they can or cannot eat a specific type of candy.
The good news is that you can help make sure your children stay safe around Halloween! First, we'll review ways that you can identify if a house is allergy friendly, how to make sure that your child is aware of their allergies, and which candies could be options based on the type of allergy.
Have you heard about the Teal Pumpkin Project?
Putting a teal pumpkin on your doorstep lets people know that you offer allergy-free, non-food items instead of or in addition to candy treats. Give out items such as glow sticks, small toys, stickers, or anything that you think that children would enjoy. This can be a fun way to include those who have allergies or other health condition.

Tips to help your food allergic child
Discussing food allergies can be difficult if your child is young or doesn't understand how to read food labels.
Introduce them to foods they cannot eat by showing them pictures so they can easily identify problem foods.
Have them say "no" or "I can't have that" which can also help remind others of their allergy.
Reinforce that they shouldn't accept food from others unless it is a trusted adult who is aware of their allergies.
Make sure they know they should tell an adult right away if they ate something and don't feel well.
Keep an epinephrine pen on hand.
Practice so your child is comfortable saying "No, thank you," to anyone who offers them home baked goods that could contain or be contaminated by allergens.

What candy can they eat?
The list below identifies candies containing specific ingredients and types of facilities that they are manufactured in. This can help those whose kiddos feel left out from getting candy.
For children with peanut or tree nut allergies, these brands are made in dedicated facilities that report being peanut and/or tree nut free:
Dots

Free from the top 8 allergens
Gluten-free

Dum Dums

Free from top 8 allergens including sesame
Gluten-free
Possibly contain trace amounts of soy oil

Free2b Sun Cups

Free from top 8 allergens
Free from soy, sesame, corn, and mustard

Junior Mints

Free from peanuts, tree nuts, and gluten
Processed in a facility that manufactures eggs and milk and contains soy

Smarties

Free from top 8 allergens and sesame

Tootsie Fruit Chews and Tootsie Rolls

Free from peanuts, tree nuts, gluten, and egg
Contains milk and soy

Hershey's Milk Chocolate

Free from peanuts, egg, and gluten
Processed on the same equipment as almonds
Contains milk and soy

Jelly Belly Jelly Beans

Free from top 8 allergens
Processed in a facility with tree nuts

Nerds

Free from top 8 allergens
May contain egg

Skittles

Free from top 8 allergens
These are just a few of the items to consider that you may find at a local store. It's important that you still check all food labels to be sure there weren't any changes in the processing and what's safe for your children.
Enjoy the fun!
Written by Christie Hollatz, Dietitian Intern at Allergy Associates of La Crosse