5 Steps for Safely Traveling with Food Allergies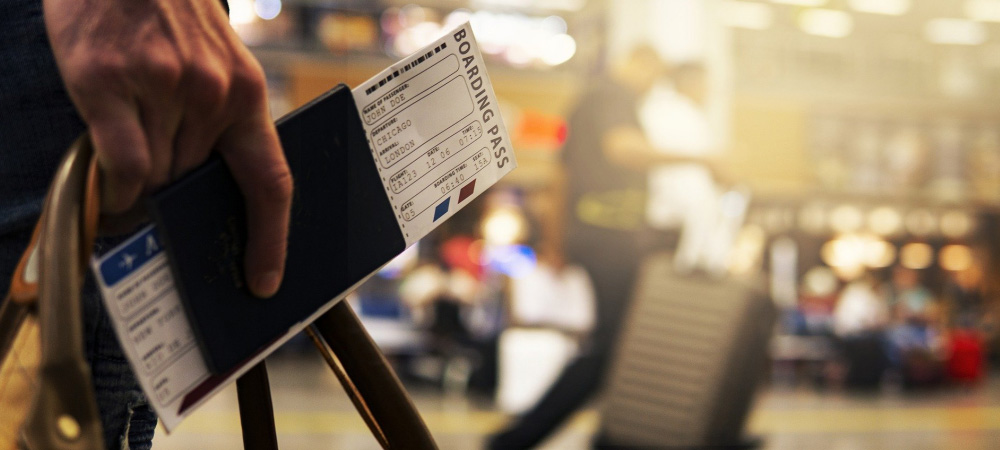 Traveling can bring excitement, anxiety, and stress, whether you're driving a short distance for the day or flying across the country for an extended business trip or vacation. Add food allergies to the mix and traveling can be overwhelming.
Researching dining and flight options, communicating your allergies with others, remembering to pack important allergy-friendly items, and treating the cause of your allergies can all help you stay safe and enjoy your trip.
Researching Safe Food Options
Some destinations offer more allergy-friendly food options than others.
Planning to dine out during your travels? Research restaurants near your destination to see which offer allergy-friendly menu options or follow specific food preparation policies to avoid cross-contact. Allergy Eats is a great resource to search for allergy-friendly restaurants throughout the U.S. Many menus are available online making it more convenient to plan in advance. Create and bring a restaurant allergen card containing information about your food allergy to help restaurant staff — share it with your server so kitchen staff is aware of specifics. If traveling abroad, translated restaurant cards can be especially helpful.
If you plan to prepare your own food instead of dining out, research which grocery stores are in the area to purchase foods that are safe for you. But, buying groceries means preparing your food. Check to see if you'll have your own kitchen so you can safely prepare food.
Traveling internationally can cause additional food allergy safety concerns. There will likely be foods you haven't tried before bringing the risk of unknown ingredients and allergic reactions. Not all labeling requirements are the same from country to country. Know what the food label requirements are to help avoid accidental allergen exposure.

Flying with Food Allergies — Preparing before takeoff
When traveling by airline, you can never be too prepared to avoid a severe allergic reaction. Here are a variety of tips to avoid food allergen exposure on your next flight:
Read the airline's allergy policy
Check the airline's snack offerings to see if any may cause potential exposure, or bring your own
Book the first flight of the day after overnight cleaning has been completed
Notify the airline of your allergy ahead of time
Immediately notify staff if you experience symptoms of a reaction during a flight
Pack epinephrine auto-injectors to prepare for an emergency
Wipe down airline trays and the area around you with disinfecting wipes
The thought of limited medical resources while flying can make it scary for the millions of Americans with food allergy. But, most airlines have plans in place to help those with food allergies. Communicating your allergy to the airline is key for your safety.

Communicating Your Allergies
Communicate your allergies with travel companions, airline staff, and restaurant staff to help you avoid your allergens and be prepared to assist in an emergency situation.
We already mentioned communicating your food allergy to airline staff, but you might be wondering what accommodations they can make. Airlines may change the snack offerings for your flight or make an announcement prior to takeoff for passengers to avoid opening snacks containing a certain allergen. When reserving a flight by phone, notify the reservation agent of any food allergies. If you purchase tickets online, note your food allergy in an available comment section, then call the airline to confirm they received the information.

Packing for Your Trip
You've done your research and communicated your allergens — now it's time to pack for your trip.
It can seem like a never-ending list of items you'll need to pack. There often ends up being something that gets left behind. Something you don't want to forget — items to help you avoid a life-threatening food allergic reaction:
All medications, including extra prescribed epinephrine auto-injectors (with the prescription label)
Disinfecting wipes for surfaces and hands
Allergy-friendly snacks and meals
Eating utensils
Emergency action plan and emergency contacts
Make sure you keep any medications in your carry-on bag just in case your checked luggage is lost.
Although not a complete list, these items can help you start thinking about what you'll need to pack to ensure your safety.

Treat the Cause of your Food Allergy
Avoiding food allergens can be tricky, especially on airlines, but it isn't the only option for those with food allergies. Personalized allergy drop immunotherapy is an option to treat the cause of food allergies and train your immune system to tolerate your allergens. The long-term goal varies for each patient from building enough tolerance to avoid severe reactions in case of accidental exposure to potentially adding a food back into your diet.
Interested in learning how personalized allergy drop immunotherapy can be used to treat the cause of your allergies? Find a provider near you who has received training and currently reports following the La Crosse Method™ Protocol for allergy drop immunotherapy.