Environmental (Inhalant) Allergy Treatment
Sublingual immunotherapy for environmental or inhalant allergies is the most-commonly prescribed form of allergy drops. With the La Crosse Method™ Protocol, allergy antigens used in the prescription include only antigens the patient is determined to be allergic to in a glycerin diluent for stability. These antigens are the same FDA-approved extracts that are used in allergy shots; the route of administration is the primary difference.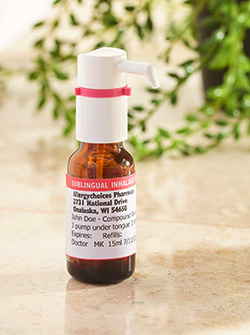 With the La Crosse Method Protocol, multi-allergen inhalant threshold dosing can be provided in one bottle. This is ideal for patients with multiple moderate to severe allergies to pollens, mites, animals, and molds or with a history of anaphylaxis
The treatment level is tailored to the patient's skin or blood test results. Patients take three doses daily using a metered dispenser that delivers a precise amount of antigen. One prescription lasts 90 days.
Treatment usually takes three to five years, until the patient enjoys sustained symptom relief and a reduced skin or in vitro testing response.
The benefits of treatment can include:
Reduced need for ongoing allergy medications
Improved quality of life
Stopping the progression of the "atopic march," which can lead to asthma and other allergy-related conditions if left untreated.