Allergychoices precision allergy drop treatment offers expanded hope for allergy sufferers
August 2017
ONALASKA, WI — As targeted precision medical therapies make headlines, a little-known allergy treatment is making strides to help allergy sufferers change their disease through tailored treatment. Sublingual immunotherapy (SLIT), also known as allergy drops, works similarly to allergy shots by gradually building the body's tolerance to substances causing allergic reactions. Instead of receiving an injection containing antigens from substances to which they're sensitive, liquid allergy drops with those same antigens are placed under the tongue three times daily. Drops are prescribed in a bottle with a dispenser that delivers a precise, measured amount that can be administered safely anywhere, requiring minimal office visits.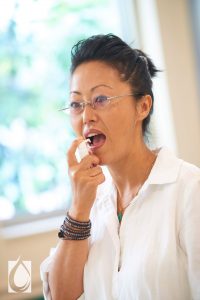 Allergychoices trains providers in implementing the La Crosse Method™ Protocol that can treat environmental as well as food allergies through allergy drops. Unlike many other protocols where all patients receive a standard treatment dose, allergy drops using the La Crosse Method are custom compounded for each patient based on their specific sensitivities and level of sensitivity, blood and/or skin testing results, history and exam.
Mike Kachel, RPh, Allergychoices Pharmacy Director says, "Many other protocols start out at a very general strength and work their way up, where the La Crosse Method takes into account the individual sensitivities of each patient and dosing is based on those sensitivities. They are dosed right at their end point versus starting everyone at the same dilution, so there can be quicker relief from a patient's standpoint and as tolerance increases, dosing increases accordingly." This protocol typically results in fewer adverse reactions that can result if doses are higher than what the patient can tolerate.
With this carefully monitored approach, providers using the method advocated by Allergychoices have been able to successfully and safely treat allergic patients, including those typically not considered candidates for allergy shots or other treatments. In nearly 50 years of clinical application, no life-threatening reactions have been reported from La Crosse Method sublingual immunotherapy. Kachel states, "There appears to be a low side effect profile and fewer patient localized reactions because it actually takes into account the individual patient's allergic tolerance rather than using a one-size-fits-all approach that may be too high for some, and too low for others."
"Based on the clinical evidence and research, patients can consider allergy drops as a viable option. I believe the therapy works so well because it's customized to each patient. We regularly hear from people all over the country who are very happy with the therapy, its convenience, safety and the relief they have experienced after years of searching for options and suffering with symptoms," Kachel explains.
###
About Allergychoices
Allergychoices, Inc. began in 2000 as the first dedicated education, advocacy, and networking resource for patients and physicians who were interested in sublingual immunotherapy to treat the underlying cause of allergic disease. It was founded by leaders in the industry who developed the La Crosse Method Protocol, based on decades of clinical experience at their Allergy Associates of La Crosse practice in Wisconsin. Today, the company has grown to be a leading healthcare services company that provides tools enabling physicians across the U.S. to provide sublingual immunotherapy within patients' reach, and gives allergy sufferers information and access to practices offering custom allergy drops close to home.
For more information on sublingual immunotherapy, the La Crosse Method Protocol and Allergychoices, please call 866-793-1680.