Allergy Skin Testing Training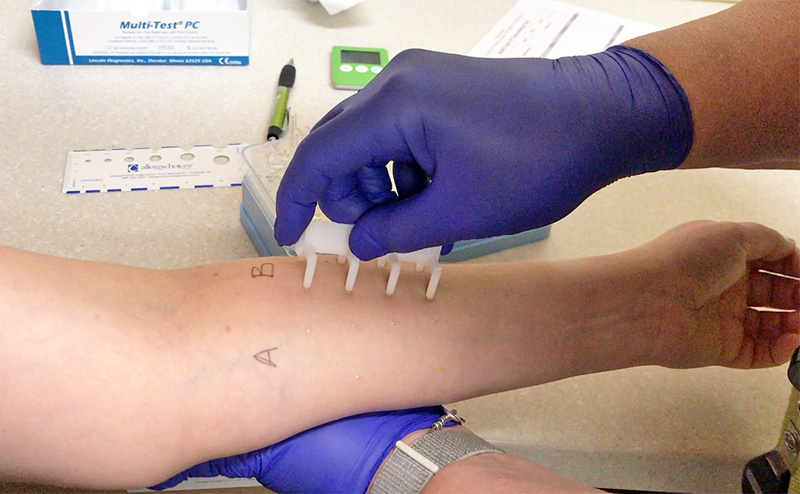 Allergy skin testing isn't as complicated or expensive as you may think. The more patients you test, your costs go down.
Adding skin testing to your practice delivers immediate test results, saving both patients and staff time. We train you to use a quick, easy-to-administer, industry-leading tool with specific, reproducible results. Implementing skin testing can also add a revenue stream to your practice.
Testing is straightforward, and most importantly, gives you the information you need to determine if your patients are candidates for disease-modifying treatment.
Allergy skin testing services are ideal for practices interested in:
Retaining allergy patients within your practice
Expanding revenue opportunity through allergy testing services
Saving money on diagnostic supplies through partner discounts
Immediate, specific allergy test results at your practice while patients wait
Seamless integration of specific testing and personalized allergy treatment
Ongoing support from established and trusted leaders in diagnostics and treatment
How does the process work?
Depending upon your practice needs and goals, we'll work with you to:
Develop custom testing panels for your region and patient needs
Identify and coordinate antigen and related supplies based on treatment goals
Train your team to implement testing confidently and successfully
Equip your team with knowledge to apply test results to sublingual immunotherapy treatment using the La Crosse Method™ Protocol
Getting started is straightforward and our team works with you to develop a step-by-step strategy to help more patients and bring the benefits of testing to your practice affordably, safely, and efficiently.
If you're already using skin testing, we're happy to discuss how we could help streamline your process and potentially reduce your costs with our transparent pricing.
We tailor allergy skin testing training packages to your practice's needs.
Contact our implementation team for a customized quote.