ImmunoCAP Reference Laboratory Services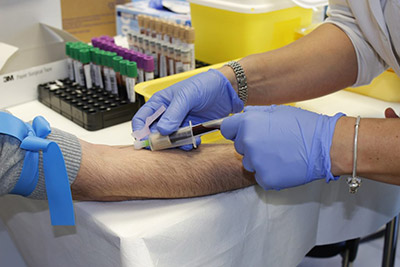 Expand your testing capabilities and expertise with blood testing.
It's an ideal solution for practices who:
Are limited on staffing and resources
Need an accurate, reproducible way to test allergies with no investment
Want to complement their skin testing with blood testing
Wish to seamlessly integrate patient-specific testing and custom treatment
How does allergy blood testing work?
Depending upon your practice needs, we'll work with you to:
Develop custom testing panels for your region and practice goals
Instruct staff on sending samples with our postage-paid kits
Equip your team with knowledge to apply results to custom patient treatment using the La Crosse Method Protocol
Why choose Allergychoices Reference Laboratory Services?
Our focus is allergy
We use Phadia ImmunoCAP technology, the gold standard in hundreds of labs worldwide
You can choose from allergen specific IgE or IgG assays
Our large inventory of 300 antigens includes common and unique antigens to cover your needs
We'll help you develop a custom regional inhalant panel to match your geographic region and that's streamlined to reduce redundancies from cross-reactive allergens
Highly sensitive assays (0.10 kU/L) provide more sensitive reporting to ensure problem allergens are not overlooked
Samples are held for six months to allow additional testing when needed
Consistent, reproducible results help you monitor results over time and adjust treatment based on clinical measures
Two day free shipping for samples; rapid turnaround and excellent customer service
CLIA and COLA accredited
Additional molecular components available; third-party testing available in CA, FL
*blood testing not available in NY
Getting started is easy, and can help you quickly get on your way to helping more patients. Our implementation team is available to work with your team to bring the benefits of in vitro testing to your practice affordably, safely and efficiently. And if you're already using other testing methods, we're happy to discuss how we could help you streamline your process and potentially reduce your costs.